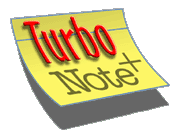 Nog beter van hetzelfde.
Turbo Note 5 is de nieuwste versie van het alom geprezen programma om snel, eenvoudig en betrouwbaar post-it berichtjes op uw computerscherm achter te laten.
Het programma is klein, snel en eenvoudig. Met behulp van duidelijke toetsencombinaties kunnen nieuwe Notes worden gemaakt, Notes verwijderd worden, getoond of zelfs verstopt. De Notes bieden zelfs de mogelijkheid een alarm te laten afgaan op een opgegeven tijd of dag. U kunt ze dus ook als herinnering gebruiken voor afspraken of andere belangrijke zaken.
Ook biedt Turbo Note de mogelijkheid om een Note naar een andere Turbo Note gebruiker te sturen. Dit geldt voor gebruikers op hetzelfde netwerk. Mocht de gebruiker niet op hetzelfde netwerk zitten, dan kan de Note desgewenst ook per e-mail worden verstuurd aan een regulier e-mailadres.
Om een nog uitgebreider beeld te krijgen van de mogelijkheden van Turbo Note 5+ kan men terecht op deze site http://www.turbonote.com/spis/runisa.dll?SV:TBNCOMPARISON:528430. Hier zijn de mogelijkheden van Turbo Note, Turbo Note 4+ en Turbo Note 5+ vergeleken.
---
Licentie: Shareware
Systeemeisen: Windows 95/98/ME/NT/2000
Download http://TurboNote.com/tnimages/tnplus.exe
Homepage http://www.turbonote.com/
Bron: RW&L. Dit bericht is eerder uitgegeven voor RW&L.