Nokia Conversation: overzichtelijk SMS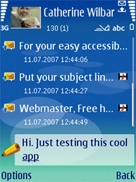 Nokia is de laatste tijd flink aan de weg aan het timmeren. Na de lancering van twee nieuwe toestellen, de N81 en de N95 8GB, en het starten van een eigen muziekwinkel en nog wat andere leukigheden, is het nu tijd voor een verbeterede SMS tool: Conversation. Dit programma moet je normale berichten deel in de Nokia vervangen. Belangrijkste voordeel is dat alle berichten worden gesorteerd op contact. Je krijgt hierdoor een veel handiger overzicht met alle SMS berichten, ingaand en uitgaand.
Conversation is a messaging application that allows you to follow your conversations, organized by individual contacts. In addition, the application provides an easy way for replying to messages, and to continue the conversations.

After installation, the application will appear in your device as an application shortcut, and as a new tab in your Contacts application.
Voornaamste nadeel dat ik op dit moment zie is het niet optimaal integreren van de tool. De normale berichtenboxen zijn nog steeds actief. Je moet dus zelf actief kiezen voor Conversation. Hopelijk wordt dit nog verbeterd voordat de tool uit de betalabs wordt ontslagen.