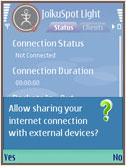 Hoe?
Eigenlijk heel simpel. Je start het, gaat akkoord met de disclaimer, kiest het te delen 3G netwerk en klaar. JoikuSpot zet zelf een accesspoint op en je bent klaar voor gebruik. Dit klinkt niet echt veilig en dat is het ook niet. Op dit moment is het niet mogelijk enige vorm van beveiliging aan te zetten op je accesspoint. En met de regels voor mobiel internet op je mobiel wil je dat zeker wel. Gelukkig komt dat nog wel.
JoikuSpot supports currently only HTTP and HTTPS protocols. This means that you can browse web and also secure sites (webmails, banks). HTTPS requires that "Automatic proxy configuration" is set on your web browser. See User guide for easy setup.

Other protocols such as IMAP (mail) or FTP do not work. The final version will include NAT allowing most protocols.

JoikuSpot does not have currently any encryption. It will be implemented to the final version with WEP/WPA/WPA2.
Joiku
Het is dus nog even wachten tot een volgende versie van JoikuSpot die deze functionaliteit kan bieden. Als dat zover is, dan is het een heel mooi programma voor de mobiele werker die nog wel eens onderweg met zijn laptop online wil. Nu nog even wachten tot de mobiele aanbieders een gecombineerd gebruik abonnement aanbieden.