Nokia komt namelijk met de erg mooi vormgegeven Nokia Mobile TV Receiver SU-33W:
The Nokia Mobile TV Receiver SU-33W works with your compatible Nokia mobile device to bring you TV that suits your schedule. Turn on mobile TV and stay tuned anywhere you have mobile DVB-H coverage. Whether you want up-to-the-minute news or entertainment that travels with you while you're on the go, now you can surf your favorite shows on your mobile screen.

With a Nokia Mobile TV Receiver SU-33W you can:

receive DVB-H mobile TV broadcasting via Bluetooth on your compatible Nokia mobile device
watch your favorite mobile TV programs and channels while on the go
enjoy excellent reception with the integrated antenna
receive voice calls while watching TV without interrupting what you're watching


Nokia Europe
Voornaamste nadeel van de oplossing van Nokia is dat deze gebruik maakt van een niet normale standaard van Bluetooth die enkel door de Nokia N73 wordt ondersteund. Maar het zou vreemd zijn als er geen ondersteuning omt voor andere modellen.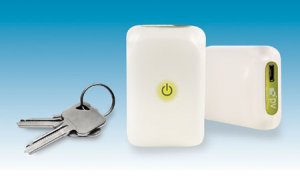 En dan is er ook al de PacketVideo Mobile Broadcast Receiver:
PacketVideo used MWC to launch their Mobile Broadcast Receiver Product - which is a smallish device that receives DVB-H signals, and then streams them out over WiFi - clever!

DVB-H is a component of the constantly hot news that is Mobile TV, and the fact that companies are looking to deliver these "DVB-H dongles", shows another innovative way in which DVB-H could be enabled for devices that don't include the receiver chip at point of manufacture.

There wasn't much detail on the dongle, other than the fact that (a) it can be recharged via USB and (b) it's using a Lithim-Ion battery. Oh and one thing - it's being aimed at Operators, not direct to the consumer. Boo.
IntoMobile
Het is nog even wachten, maar het zou wel leuk zijn als dit soort producten op de markt komen bijvoorbeeld voor aanvang van een interessant sportevent. Denk aan de komende Tour de France of Euro2008.