Nokia J: Slick handsfree headset
De nieuwe Nokia J Bluetooth-headset combineert belgemak met superieure technologie en geluidskwaliteit. De Always Ready-functie van de Nokia J (spreek uit: jay!) biedt ongekend gebruiksgemak. Zo blijft de Bluetooth-headset maar liefst tot drie maanden lang in de stand-bystand staan. En wil je hem gebruiken voor een draadloos telefoongesprek, haal dan de headset uit de houder en je kunt direct beginnen met bellen. De intelligente technologie in de Nokia J doet de rest: inschakelen, verbinding maken en opnemen. Stop de headset terug in de houder en hij verbreekt de verbinding en schakelt automatisch uit. De houder klik je makkelijk vast aan je overhemd, blouse of jasje.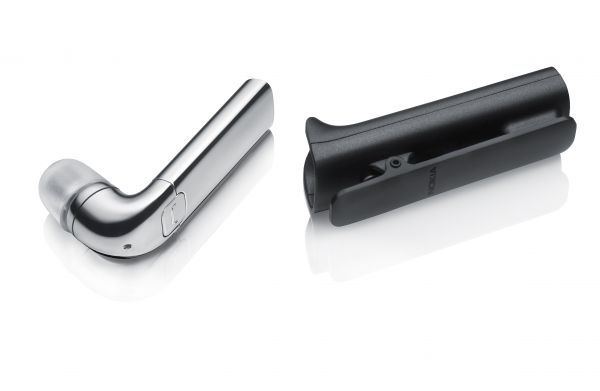 De Nokia J beschikt verder over DSP-ruisonderdrukking (Digital Signal Processing). Dit zorgt voor een glashelder geluid. Ook past de Nokia J het volume automatisch aan een gesprek aan, zodat hij nooit meer te hard of te zacht staat.
Het ontwerp van de Nokia J heeft tal van prijzen in de wacht gesleept: de 'red dot Design Winner 2011', de 'iF Product Design Award 2011' en de 'International CES Innovations Design & Engineering Showcase Honor 2011'. Meer informatie op Nokia's Loud & Gear-website: http://accessories.nokia.com.
Consumentenadviesprijs: €99,-
Bron: Nokia Pers