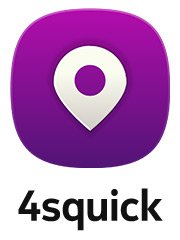 Iets meer dan een maand geleden schreef ik over 4squick, de mooiste foursquare oplossing voor Symbian die ik tot nu toe ben tegengekomen. Niet de meest functionele. Maar het was dan ook een vroege release, een echte beta. De betastatus is het nog niet ontgroeid, maar er is wel een nieuwe versie beschikbaar: v.0.7175.
After awesome summer holidays we're back with a new release of 4squick. Yes, it took a while but as said, we were on hols :) This version adds a couple of new features and fixes found bugs.

Major changes of v0.7175:

App startup time is now faster than ever
Public/private check-in
Share check-in to Facebook and Twitter
Leaderboard
User profiles
Multiple bug fixes and minor details here, there and everywhere

More features are in the pipeline so we'll be back soon.

Follow us @Twitter @4squick or @Facebook or leave a comment here!