MeeScan, QRcode reader voor N9
Met MeeScan lost Nokia een groot gemis op voor de N9: het scannen van QRcode. De MeeScan is per direct te downloaden in de Nokia Store.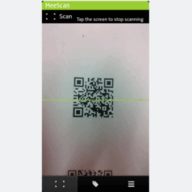 De app ondersteund zowel 1D als 2D codes, waaronder natuurlijk QRcodes.
MeeScan is the N9 application for scanning 1-d and 2-d barcodes, such as UPC, QR, and Data Matrix codes. The application also identifies many types of actionable text encoded in 2-d barcodes as contact, web URL, iCal event or text, and allows relevant action. MeeScan uses ldmtx and zbar libraries.