De app werd vandaag door iemand gesuggereerd en na een paar tweets heen en weer heb ik besloten de app te kopen voor het enorme bedrag van €2,-. Las daar trouwens een grappige opmerking over, ook op Twitter vanzelfsprekend. Mensen zijn bereid om €500 of nog veel meer uit te geven aan een mobieltje, maar €1 of €2 voor een app is al teveel.
De app
Rocket komt in in twee themes, licht en donker. De lichte theme lijkt redelijk veel op de standaard app van de N9. Dat is gelijk een eerste positief verschil met qNeptunea, de app die ik momenteel gebruik. Die app voorziet in vele themes, maar tot nu toe ben ik er eigenlijk geen een tegengekomen die mooi aansluit op Meego zelf. De standaard groene theme doet dit nog het beste.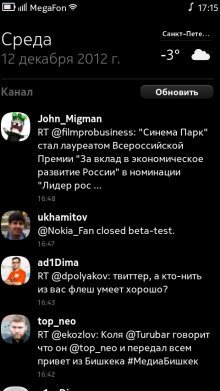 Qua UI zit het dus wel goed. Wel mis ik, weer in vergelijk met qNeptunea, de mogelijkheid snel naar je eigen profiel te gaan. Ik zoek nog wel eens een tweet van mezelf en dat kan in die app erg makkelijk. In Rocket heb ik daar nog geen makkelijke route voor gevonden. Daar staat weer tegenover dat andere zaken wel goed zijn geregeld. Zo kun je eenvoudig bij je eigen lists en 'saved searches' komen.
Integratie
De integratie van Rocket is ook prima in orde. Mentions en DM's worden netjes in de achtergrond gecontroleerd en via een notificatie gemeld. Daarnaast wordt je timeline doorgezet naar het homescreen. Leuke extra die ook beschikbaar was in de standaard app.
In beeld en geluid
Conclusie
Al met al lijkt het me een goede app. Ik mis nog wat instellingen, zoals de mogelijkheid om het direct binnenhalen van tweets uit te zetten en over te gaan naar een tijdsinterval. Het laatste is over het algemeen gunstiger voor de accu. Maar wellicht dat dit nog komt. We zijn pas bij versie 0.0.4